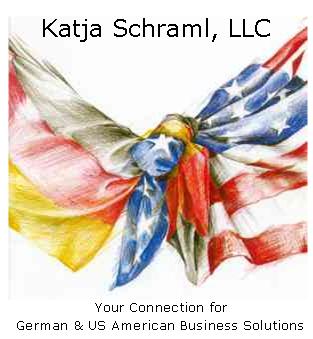 Katja Schraml, LLC is a privately owned consulting & trade company providing international consulting, real estate, logistic & transportation, sales & marketing as well as Information Technology (IT) services.
Committed to customer satisfaction, Katja Schraml, LLC participates in a strong partnership of expert service providers to utilize synergy effects for exceptional results.
Our Clients do benefit from our exceptional combination of expert knowledge, international experience and business expertise, high level connections through effective global networking, actively maintaining relationships to international business organizations and the synergy of strong partnerships.
Our MULTILINGUAL Team speaks ENGLISH, GERMAN, FRENCH & ITALIAN.
We will tailor our services to your individual needs! Please ask for a FREE consultation & quote.
Katja Schraml, LLC works prompt & dependable for you as our client & partner and is looking forward to prove it to you with our slogan
"YOU WILL BE HELPED!"
-----------------------------------------------
Katja Schraml, LLC ist ein Eigentümer geführtes Beratungs & Handels Unternehmen, das Internationale Beratungs-, Immobilien-, Logistik & Transport-, Vertrieb & Marketing- sowie Information Technologie-Dienstleistungen anbietet.

Kunden profitieren durch die aussergewöhnliche Kombination von Fachwissen, internationalen Erfahrungen & Geschäftsverbindungen, dem effektiven Nutzen globaler Netzwerke, der aktiven Kontaktpflege zu internationalen Organisationen, der Synergie starker Partnerschaften sowie der ausserordentlichen Flexibilität und Loyalität.
Unser mehrsprachiges Mitarbeiterteam spricht fliessend (Wort & Schrift) ENGLISCH, DEUTSCH, FRANZÖSISCH & ITALIENISCH.
Wir passen unsere Dienstleistungen individuell auf Ihre Bedürfnisse an! Bitte kontaktieren Sie uns für ein unverbindliches & kostenfreies Gespräch, bzw. Angebot.
Wir arbeiten schnell & zuverlässig für Sie als unser Kunde & Partner - immer nach dem Motte
"HIER WERDEN SIE GEHOLFEN!"